EJ Menswear opened for business in Sligo in 1994. The company began life on Market Cross, Sligo in a store with a mere 400 square feet. From the beginning the owner, Eamonn Cunningham, saw the value in supplying quality brands to the people of Sligo and meeting the needs of his discerning customers.
In 1996 an opportunity arose to move to a larger, 2000 square foot, premises across the street. The larger store allowed for EJ Menswear to expand its product range and brand portfolio. With continued success over the years, EJ's began to sell suits and also entered into the formal and wedding hire business. Over the following years EJ Menswear went from strength to strength and in 2001 the former Bank of Ireland building on Grattan Street came on the market. Once again Eamonn seized the opportunity to expand the business and the new EJ Menswear store, as we know it today was born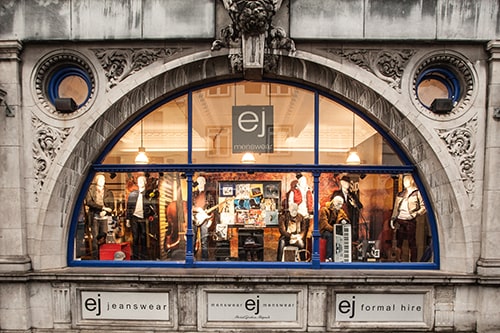 Not satisfied being 'the man that bought the bank' we set our sights on the coveted Draper's Award, which we won in 2004. The award represented the Best Independent Menswear Store in UK & Ireland. Winning the award was no walk in the park, and we had to see off competition from top retailers in the UK & Ireland. The awards however didn't end there; in 2013 EJ's was voted Groomswear Store of the year in Ireland in The Wedding Journal Reader Awards.
Not surprisingly our top-notch customer service and range of quality brands has attracted customers from near and far, many of which have celebrity status. Over the years EJ Menswear have kitted out Nathan Carter, Brent Pope, Heath from Home & Away, Fran from Love/Hate and of course the Notorious Conor McGregor. More recently we are delighted to have kitted out former Olympic and current professional boxer Michael Conlan. We have been in Michaels corner since his pro debut in Madisson Square Garden, NYC and have watched him go from strength to strength.
Very few utilize social media as effectively as EJ Menswear and we are already well known for our viral social media videos across various social networks. With over 10 million views to date on Facebook alone our videos have taken the internet by storm and have featured on the pages of the Irish Independent, Joe.ie, The Irish Mirror, Balls.ie, Spin, 98FM, and many more.
Now in our 25th year, EJ Menswear has taken another step further with the launch of our fully-fledged online store, ejmenswear.com. The new online store, which was featured in The Sunday Business Post, boasts hundreds products from world-class brands such as Ralph Lauren, GANT, Ted Baker, Farah, Lyle & Scott, Scotch & Soda, Calvin Klein and many more. All product images are of the highest quality and all shot on site in our own photo studio. Customers can shop in confidence with secure credit & debit checkout facilities and PayPal option if desired.
We also carry a range of must-have men's accessories including leather belts, leather wallets, men's bags, underwear and fragrance.
Aside from all the high tech, behind the scenes wizardry, ejmenswear.com is built on that personal touch that comes from a deep understanding of our customers needs. One of those needs in our busy modern world is more time and that is why we provide FREE Next Day Delivery anywhere in Ireland!
If you want to check out some of our viral videos and get a feel for who we check out our Facebook page here: www.facebook.com/ejmenswearsligo or phone 071 - 9170824